The 11
th
Congress of the AIC (International Colour Association) was held at the John Niland Scientia Centre, University of New South Wales in Sydney at the beginning of the month and was a highly successful event.
There were over 330 delegates of whom ~220 were from overseas in fact from 34 countries from most continents around the world.
The Congress showcased the latest research and development in all disciplines of colour study from architecture to design, measurement, psychology, philosophy, science and vision with the participation of leading international researchers. Over 130 oral papers and 80 poster papers were presented during the Congress.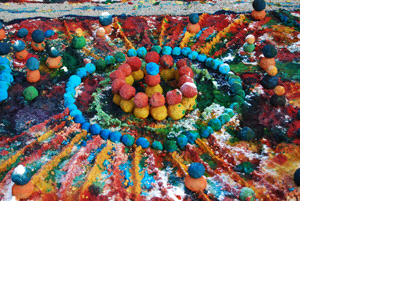 The Opening Ceremony had a very strong Aboriginal component with a traditional Welcome to Country; which was very moving. Delegates also had the opportunity of being involved in a sand painting created by local artist Walangari Karntawarra.
A dynamic and colourful keynote address titled 'Why are animals colourful? Sex and violence, seeing and signals was then presented by Professor Justin Marshall from the Sensory Neural Group, School of Biomedical Sciences and Queensland Brain Institute, The University of Queensland.
New features during and prior to the Congress were:
1. Pre-conference workshops
Master Class for Artists and Designers - Associate Professor Lois Swirnoff
Colour: Meaning and Communication - Associate Professor Dianne Smith
Introduction to Colour Psychology and Statistics - Professor Byron Mikellides
2. Overview sessions on the latest in research in:
Colour Vision - Professor Paul Martin
Colour Science - Professor Roy Berns
Environmental Colour - Associate Professor Karin Fridell Anter
3. Two multi-disciplinary Symposia
i. Appearance in Nature and Design
Speakers: Dr. Kevin Hellestrand - Underwater photographer and Cardiologist
Chalisa Morrison - Senior Design Colour and trim Toyota Design Australia
Gabi-Kigle-Boeckler Global Business Manager with BYK Gardner GmbH
ii. 'Good' and 'Bad' Colours: Painting, Conservation and reproduction
Speakers: Dr John Gage - Fellow of the British Academy
Dr. Maria Kubik - Paintings Conservator Art Gallery of Western Australia
Professor Roy Berns - Richard S. Hunter Professor in Color Science, Appearance and Technology, Rochester Institute of Technology, USA
The seminars successfully met their objective of encouraging inter-disciplinary discussion and interaction.
There were over 20 papers relating to colour measurement and one session devoted to colour control in the automotive industry in addition to the Symposium on appearance.
The social functions included dinner on a Sydney Harbour Cruise and an excursion combining the Sydney Botanical Gardens and the Aboriginal Art Exhibition at the Art Gallery of New South Wales.
Copies of the Proceedings on CD are available for purchase at a cost of A$175.00 plus postage. To purchase, please email: sales@nhpl.com.au . Please note stocks are limited.
The 12th Congress in 2013 will be held in Gateshead, England with interim and mid-term meetings:
2010: Argentina - Colour and Food - From the Farm to the Table
2011: Switzerland: - Interaction of Colour and Light
2012: To be confirmed
CyberChrome was a Congress sponsor. Comments from any attendees are welcomed. This blog post was written by the Conference Chairman, Nick Harkness of NHPL. http://www.nhplcolour.com/ and nick@nhpl.com.au